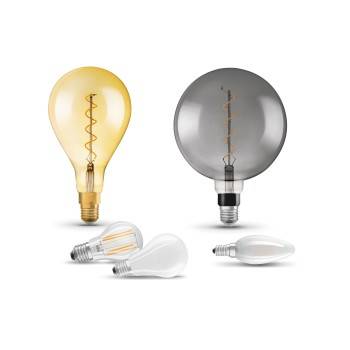 The SYLVANIA Brand Profile
We are Advancing Light
Light defines how you see the world. We are redefining the role of light in a connected world that crosses borders, geographies and cultures, linking us together. We are advancing light by developing new technologies that offer unlimited potential in how light impacts your life and how you control your environment.
LEDVANCE is a global leader in advancing light with LED, traditional and smart lighting and accessories. In North America, the SYLVANIA product brand leadership is a result of a proud legacy of over 100 years of lighting experience and paves the way for future success. Over the years, we've changed to reflect the markets we serve and the customers we reach. Through this time of change and discovery, one thing has remained constant - a belief that our ideas can make a difference in every person's life and that our products reflect a commitment to making our world more comfortable, more productive and more imaginative.
Our Organization
Active in more than 120 countries, LEDVANCE is an approximately €2 billion business with around 9,000 employees worldwide. Our global headquarters is located in Garching, Germany, and our North American headquarters is in Wilmington, Massachusetts.
Our Products
In North America, we offer SYLVANIA advanced LED light bulbs as well as a wide range of traditional light sources, standardized fixtures and connected lighting solutions. Our products have a beautiful, modern design; are easy to use and install; carry more and more intelligence; and save energy. This all can help positively impact our quality of life.
A Century of Illumination
The SYLVANIA brand leadership results from our proud legacy, which extends back to the dawn of the twentieth century, and points the way for continued success in years to come. In fact, the history of our company parallels the evolution of electric and its technological advances over the course of the twentieth century. It's a story rich in scientific discovery and successful entrepreneurship, which spans both sides of the Atlantic. Join us on a brief journey into the SYLVANIA brand history.
Roots Back to 1901
Thomas A. Edison invented the modern incandescent light bulb in 1879, though inventors on both sides of the Atlantic had worked on artificial light sources for many years. Use of the light bulb spread, spurred on by achievements in electrical engineering led by Germany's Werner von Siemens, whose company perfected a light bulb in 1880.
Our company traces its roots back to 1901, when young entrepreneur Frank Poor became a partner in a small company in Middleton, MA, that renewed burned-out light bulbs. The company would buy an old bulb for a few cents, cut off the glass tip, replace the filament, and reseal the bulb.
Poor soon moved the business to Danvers, bought out his partner, and called his new company Bay State Light Bulb Company. His brothers soon joined him in the enterprise. The Poor brothers started the Hygrade Incandescent Light Bulb Company in 1909 to sell new carbon-filament light bulbs and, by 1911, tungsten filament light bulbs. The Bay State refilling operation was soon discontinued. In 1916, Hygrade opened a new plant and headquarters in Salem, Massachusetts, which could turn out 16,000 light bulbs a day.
In Pennsylvania, the Novelty Incandescent Light Bulb Company had been formed in 1906 to make novelty lights and refill old light bulbs. After several transitions, the company was finally purchased in 1922 by entrepreneur Bernard Erskine and two associates, who founded the Nilco Light Bulb Works. In 1924, Nilco formed the SYLVANIA Products Company to make receiving tubes for another new invention that would change the world: the radio.
In 1931, Hygrade, Nilco and SYLVANIA representing the company's roots in Massachusetts and Pennsylvania merged to form the Hygrade SYLVANIA Corporation. The company sold light bulbs under the Hygrade name, and radio tubes under the SYLVANIA name. Hygrade SYLVANIA marketed its first fluorescent light bulb in 1938, developing a complete line of fixtures called "Miralume." The Sylvan Street plant was opened in Danvers in 1941 to manufacture fluorescent light bulbs.
In 1942, the company changed its name to SYLVANIA Electric Products, Inc., and debuted the "flashing S" logo. The 1940s and 1950s witnessed enormous growth, as new plants were opened. The company increased its production of materials and components, phosphors and metals, for example, used in and other products. SYLVANIA also expanded into consumer electronics, television tubes and radios.
In 1959, SYLVANIA merged with General Telephone. The new company became known as General Telephone & Electronics and later, GTE. In 1965, the company's division opened its Danvers headquarters. In the 1970s and 1980s, the division gradually moved out of consumer electronics to focus on precision materials.
In recent decades, the company developed products with longer life, better light and greater energy efficiency. Important advances were made in the development of discharge light bulb technology. In the 1980s, the SYLVANIA OCTRON® fluorescent light bulb and the DULUX® compact fluorescent light bulb represented major innovations.
OSRAM SYLVANIA was created in January 1993, when OSRAM GmbH acquired the SYLVANIA and precision materials businesses in North America from GTE.
LEDVANCE was launched as an independent company during the summer of 2016 when it separated from OSRAM.
In 2017, LEDVANCE was sold to a Chinese consortium consisting of the investor IDG Capital, the Chinese lighting company MLS Co., Ltd. (MLS) and the financial investor Yiwu State-Owned Assets Operation Center (Yiwu). Together the involved companies intend to expand their position as global leaders in the lighting industry. LEDVANCE and MLS – one of the world's largest producers of LED packages - complement each other very well, both geographically and in terms of product portfolio. Through the transaction, both will benefit from a significantly larger sales and distribution network, as well as sourcing synergies, laying the foundation for co-operative future growth.
Based in Wilmington, MA, LEDVANCE manufactures SYLVANIA branded incandescent, fluorescent and high-intensity discharge light bulbs at seven plants within the United States, Canada and Mexico. LEDVANCE provides general sales, marketing and distribution services throughout the U.S. to industrial, commercial and retail customers and to original equipment and other light bulb manufacturers. LEDVANCE has a centralized customer support organization located in Westfield, IN.
The company has five sales channels. The Industrial Commercial group markets a wide variety of SYLVANIA light bulbs and ballasts, which are sold to industrial and commercial customers through a nationwide network of independent electrical distributors. Consumer Products sells SYLVANIA household light bulbs through retail stores to residential customers.
The mySYLVANIA.com Extranet offers a personalized online workplace and community for over 10,000 customers, business partners, contractors, and specifiers in the United States. mySYLVANIA.com provides registered users access to information on business and services.
LEDVANCE - Canada
The Canadian division of LEDVANCE is based in Mississauga, ON. This organization provides general sales, marketing and distribution throughout Canada to industrial, commercial and retail businesses.
Learn more about LEDVANCE on www.ledvance.com
Lighting Innovation for Over a Century
LEDVANCE is proud to offer an innovative selection of advanced lighting technologies and energy-saving products, systems and services.
LEDVANCE's focus is on lighting, we provide the solutions that meet the needs of all our customers. Our products are designed to save energy, improve the quality of light and meet sustainability goals. The right lighting solution can make people more comfortable, more productive and feel safer. Whatever the need—from retail to entertainment lighting, depend on us for the ideal lighting solution to meet your requirements and to help make your company more efficient and productive.
SYLVANIA branded products have signified lighting innovation for more than a century. Innovation, quality and dependability are why the SYLVANIA brand name is the name you can trust. The complete line of SYLVANIA products deliver unparalleled levels of performance to any modern lighting application.
Enter your email and receive 10% off your first order.